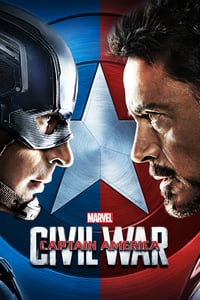 🎞 Watched: Captain America: Civil War
Before getting into the MCU, this was probably the movie that I thought would be the very worst one. Super heroes fighting each other over issues that could be solved be talking is just so boring. Turns out, I was wrong about the movie. I really liked this one!
I think we all can agree that this is an Avengers movie, just as much as a Cap movie. And as such it is the Avengers movie, at least in the sense that this is how I would like more of them to be. The world is not going to end if the heroes fail, but instead there are real personal stakes here. I can understand motivations, I can get invested.
As for the fighting, the Avengers movies have the problem that you have a demigod, an almost invincible rage monster, some really powerful metahumans and a spy/assassin and a guy with a bow and arrow. This imbalance of power amongst them gets more or less silly in both Avengers and Age of Ultron (and I assume in Infinity War as well). In this one, it is much better managed. The airstrip scene, which I kind of dreaded, was really exciting. Everybody had an important role and I could understand the abilities of every character and why the could, or couldn't, match each other.
It was also interesting that I still don't really know if I'm on team Tony or team Cap. Philosophically speaking I would like to agree with Steve, but I can also totally see myself acting just like Tony does in the final battle, if I were in his shoes.
Right, I almost forgot. Spider-Man! (I'm looking forward to seeing Homecoming.)