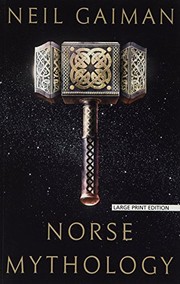 During the weekend, after I finished "The Drawing of the Three", I also realized that I only had two hours left of listening time on Neil Gaiman's Norse Mythology and since I was driving around doing errands I just kept on listening and late that same day I finished this one as well.
When I was a kid I was somewhat interested in Norse mythology so some of the stories where more or less familiar to me. I feel like there's got to have been something about this book that I didn't like because I've been in the process of listening to it and never really finishing it for even longer than I was with The Drawing of the Three. I also felt more resistance inside myself to start listening to this one again.
That being said, right now I can't remember anything in particular that I disliked about it, and the last two hours of it that I have in fresh memory where great. The stories themselves are fascinating and Gaiman is such a great writer. It also help's that this audiobook was read by Gaiman himself and he is also a fantastic reader, really bringing the text to life.