TL/DR I finally bought myself an Apple Watch, it arrived a few days ago and I really like it.
There are few, if any, purchasing decisions that I've been sweating for as long time as the Apple Watch. I never really felt the need for one but the want for one has been there since its initial release. However I didn't like the look of the first aluminum ones and I though the steel ones were too expensive. Eventually I got a Pebble Steel for my thirtieth birthday and I really liked that watch and found it useful.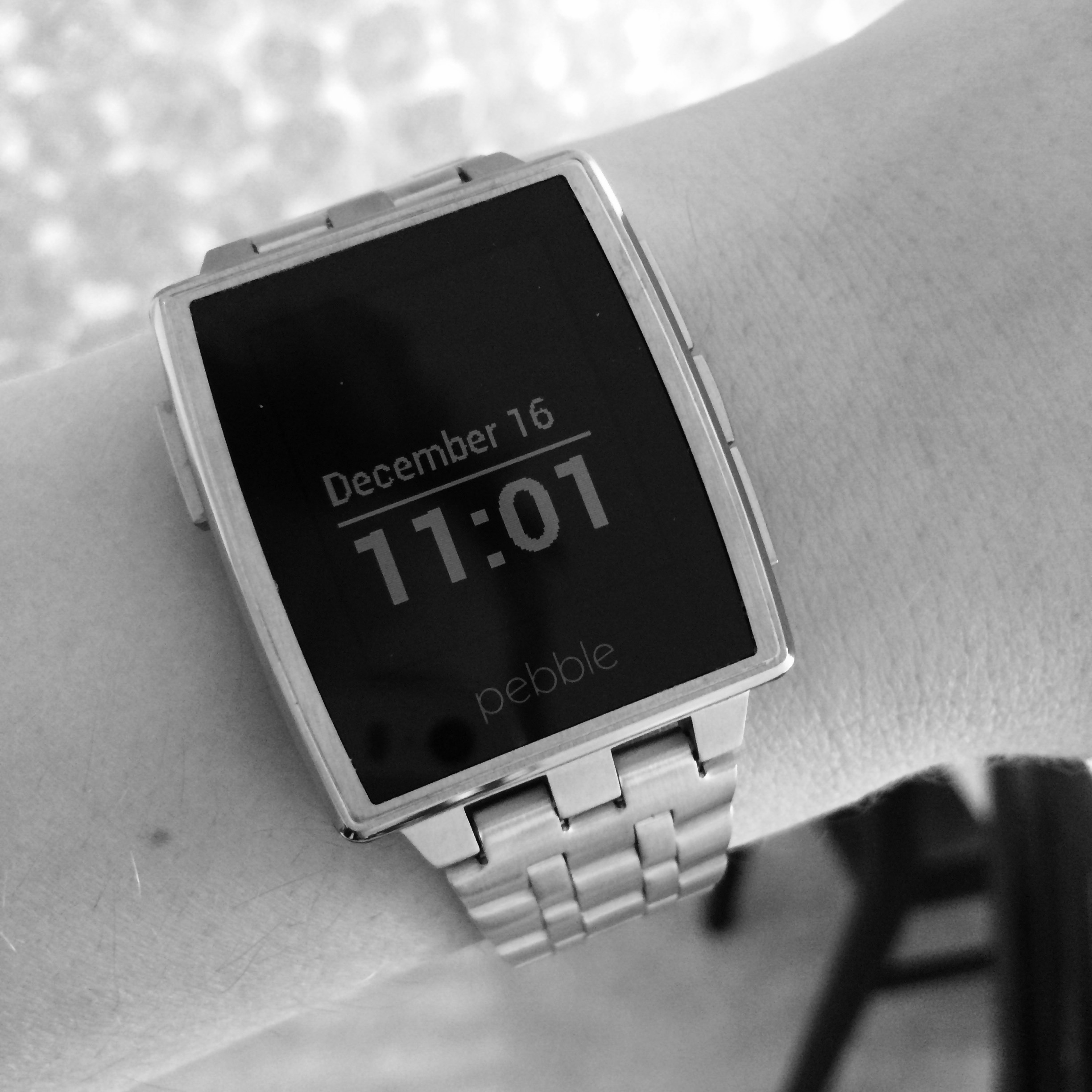 After a few years and the Pebble corporation being "sunset" it stopped working properly, it's app started hogging disk space on my phone and so on so I stopped using it and got myself a regular watch.
EDIT: This photo was added after publication of the article.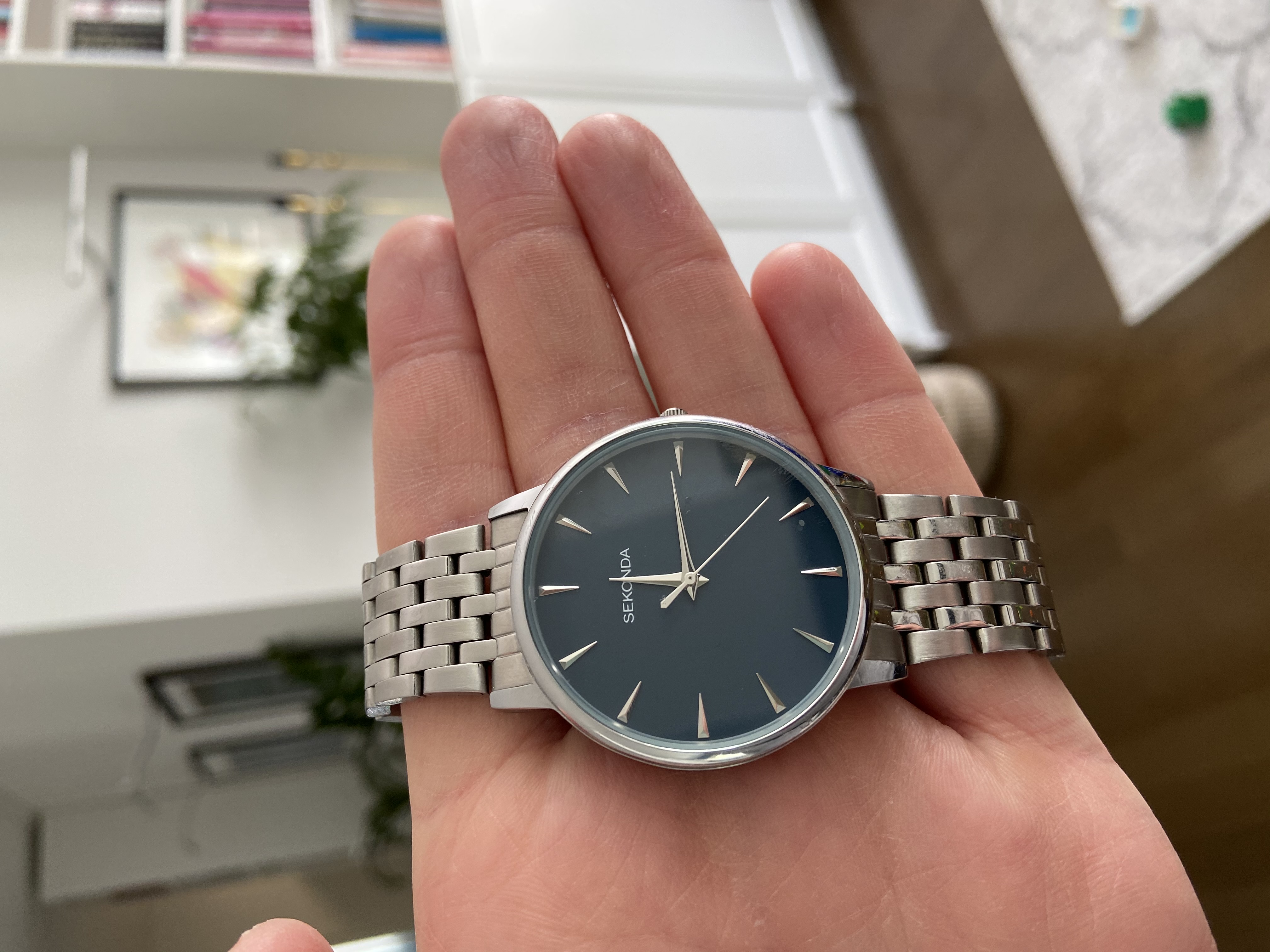 The idea of getting an Apple Watch has been in the back of my mind more and more these past few years as I think the aluminum ones have gotten better looking. So last year I was quite close to buying one but in the end I decided not to, just to change my mind this summer. The reason (more likely excuse) was that it would be nice to track my activity when I go swimming in the lake.
I knew I wanted to silver aluminum one but I did some waffling about which band to get. In the end I decided to get two, the Alaska Blue Sports Band and the Milanese Loop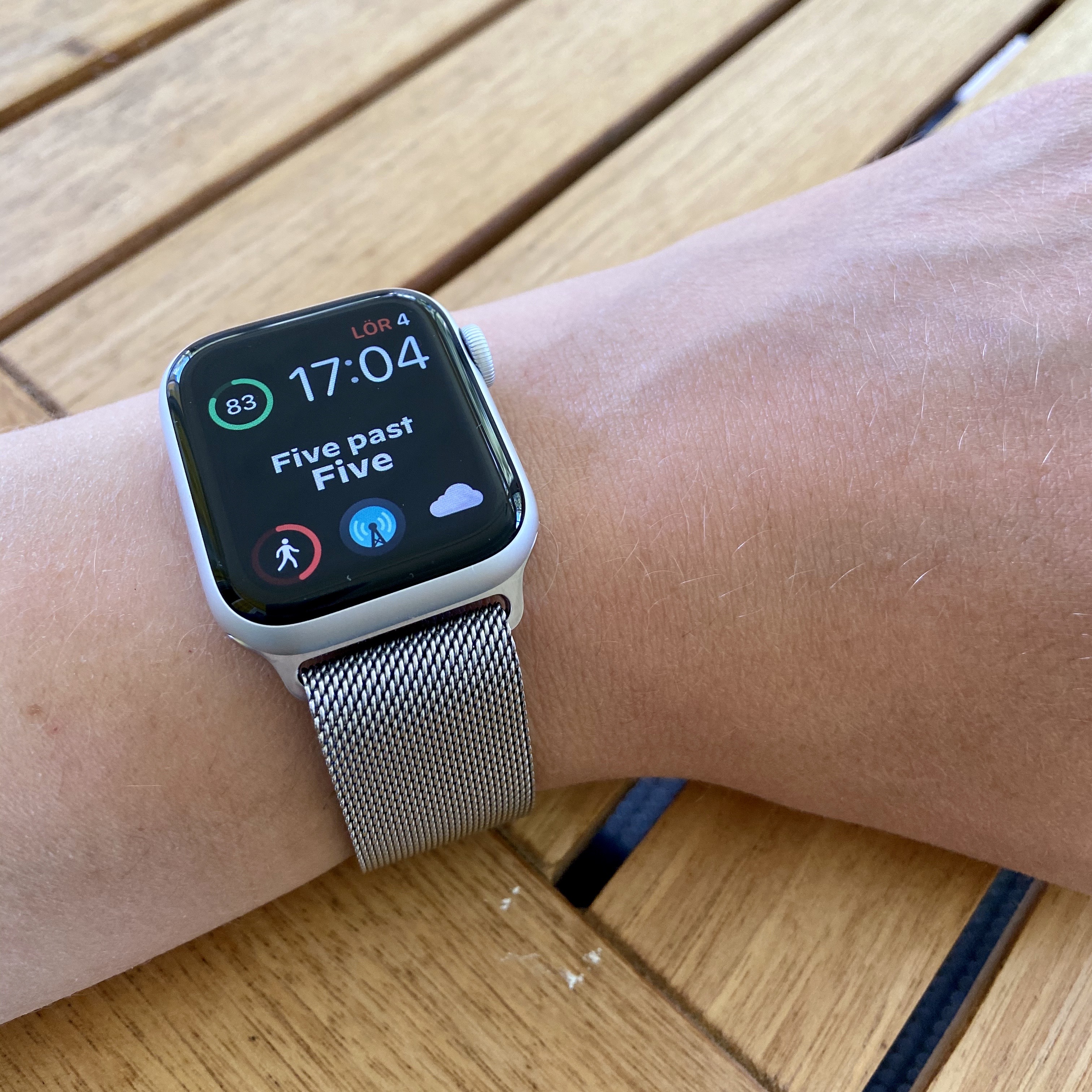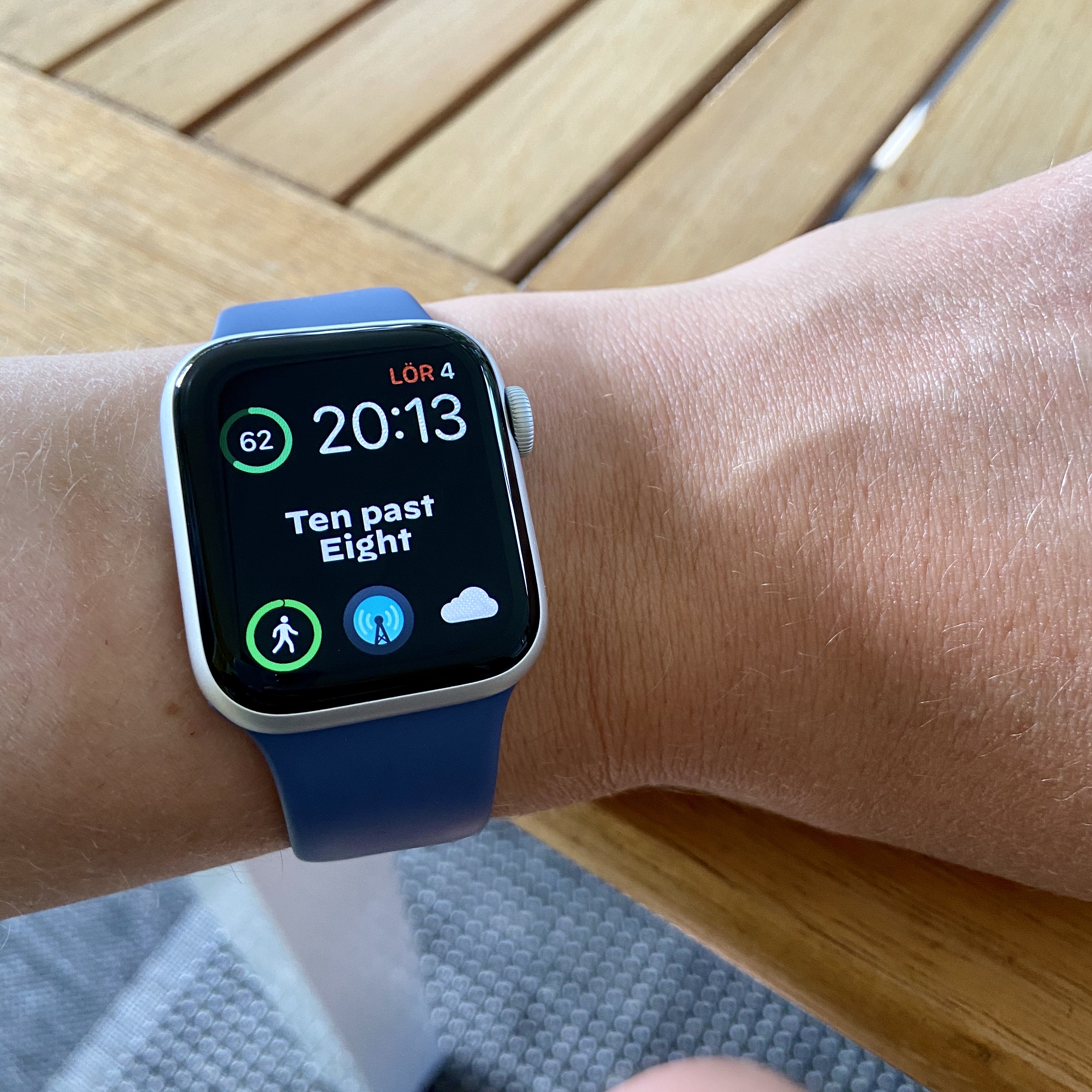 The watch bands
I'm surprised about how much I like the Sports Band. I mostly got it because I wanted to wear the watch when swimming and I didn't want to use the Milanese loop for that but right now the Sports Band is my favorite of the two. It looks got and is comfortable.
The Milanese loop is still eligible for a return to Apple but I think I'll keep it. I will use it some times and if I return it now I'll definitely not buy it or something similar again because I will get cheap. So having one is probably better than not having one.
The watch itself
As mentioned above I got the silver aluminum watch and I chose the 40 mm one. I have quite small wrists and I'm not a fan of big watches so this smaller one fits me great.
I also decided to go with the cellular version, something I've always cheaped out on for my iPads. With the iPads I've never really regretted that cheapness since I never, I mean never, carry and iPad with me outside of a place with WiFi without also carrying my iPhone and tethering has always worked perfectly for me. For the watch I wanted to try and see if I decided to leave the phone behind for walks and other potential, though still not actual, exercise. So far I haven't been able to get the cellular working because of some problem with my carrier that I need to go to a store to sorts of and I just haven't had the time yet.
The watch-faces and complications
I've heard CGP Grey and Marco Arment among others complain about the various watch-faces. So far I don't agree with them. I do think third-party watch-faces should be a thing, and if that isn't a thing there should be far more watch-faces by Apple, but the current ones works for me right now.
So far I haven't really decided on a particular favorite. Instead I have a few that I circle between during the day for various contexts.
Simple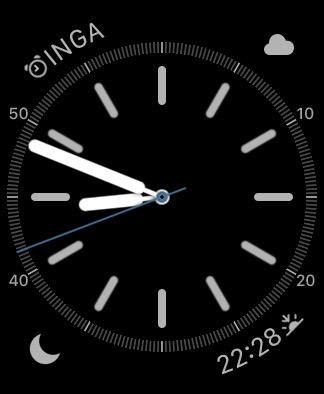 First of, there the Simple watch face with a petroleum blue second hand. This is my night time watch. So far I wear the watch at night as well to track my sleep so I think it's nice to have a fairly clean-looking watch-face for nighttime viewing.
I use four complications, one in each corner:
(Clockwise from top left)
Alarm
Weather
Sunrise/sunset
The main one here is Sleep++ by _David Smith. I'm a big fan of David and his work and curiosity about his watch apps are part of the reason why I wanted one. I put the Sleep++ complication there on this face to make sure I activate sleep tracking each night but I gotta say that the automatic tracking works very well as well, so maybe I don't really need it there. Still, it's nice to have the crescent moon there as a visual cue that this is the night watch-face and that I'm supposed to sleep when I see it.
Infographic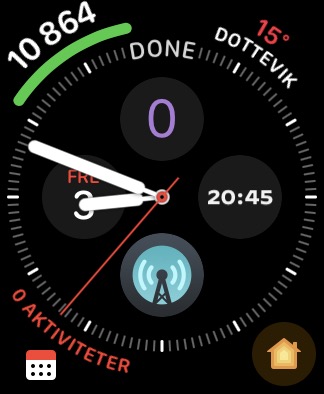 I imagine this will be my main work watch-face, the one I turn to on a working day after I've woken up and will use until work is done for the day. In that context I love how many complications I can, and have, fill it with, though it does make it quite busy which.
The main complication here is the topmost "multi function" one that is hosting OmniFocus. This way I can always see what I should be doing next and it's a great feeling to check off a lot of items and then see the Done text appear, indicating that there's nothing more I need to do.
However, I would like it even better if I could chose different OmniFocus perspectives for the watch complication and the watch widget. Right now those need to be the same. It's in no way a big complaint but OmniFocus is this wonderful power tool of choice and settings, so it would be great if this particular thing could be a setting as well.
As for the outer complications, they are (again clockwise from top left)
Pedometer++ is another great tool by David Smith. It was the first app I got for my iPhone 5S that made use of the "motion co-processor" and the main reason why I've worn my iPhone as much as possible ever since. I just love to track my step amount and I think Pedometer++ is a nice app to do it with. On the watch it works equally well and so far I'm more interested in just my steps rather than my "exercise" and "standing" so I prefer this one to the Apple Activity Rings.1
Yr is a weather app from Norwegian National(?) weather service. I've used their phone app for ages and I find their forecasts better that the Apple ones.
Home is for controlling the IKEA Trådfri lights in my house. If I work at the office that is not going to be very useful but when working from home it's nice to have quick access to the various lighting scenarios.
Then there's the inner complications. A time complication from Watchsmith, yet another awesome David Smith creation. It's an app whose sole purpose is to provide useful and highly customizable complications for the watch. Very geeky, truly amazing!
Then there's a date complication and finally the Overcast one. Overcast is my podcast player of choice and having quick access to it is great. I'm not 100% sold on the dark mode icon on the watch but I haven't bothered checking out whether I can change it or not.
Infographic Modular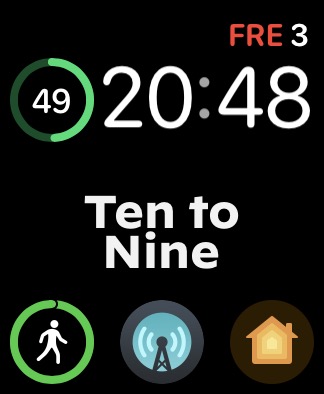 Finally there's the Infographic Modular face which I use as my free time watch-face, or awake but with with nothing particular to do watch-face.
I like the digital time on this one for precision telling of the time and in combination with the fuzzy time beneath it it's great. The fuzzy time is another Watchsmith complication.
On the bottom there are three complications (left to right):
Pedometer++
Overcast
Home
All of these feature on watch-faces mentioned above, so look there for more information.
The complication next to the digital time is the battery indicator. This one will probably be changed to something else soon. I find I don't really care that much about the battery. Maybe it will be replaced by the activity rings, but that would than make the Pedometer++ one fairly redundant so it would need to be changed as well. Or maybe I'll change the battery to the weather.
There will be lots of fiddling over the summer and hopefully a few blog posts about it
---
That being said, filling the activity rings has proven to be far more addictive that I though. ↩